Select your layout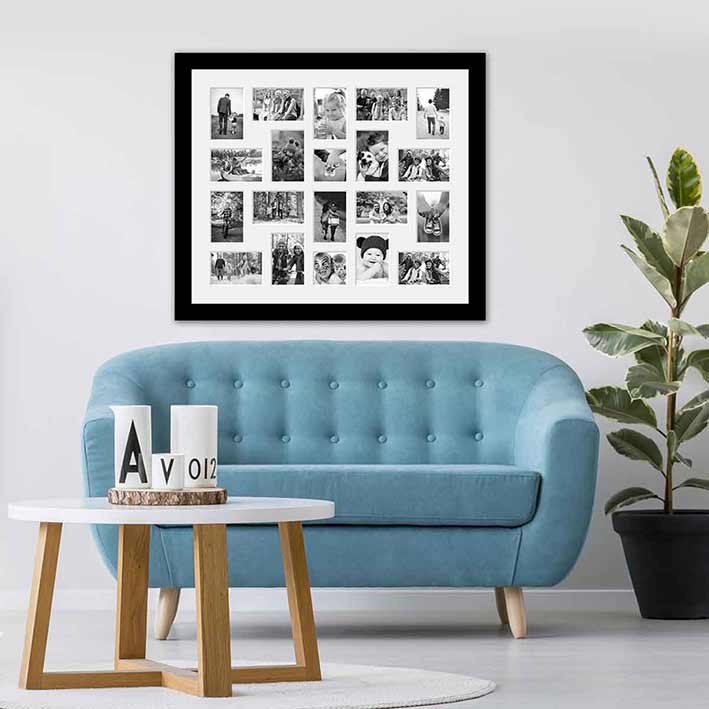 Tell your story in a multi-photo frame

Looking for a stylish and convenient way to display multiple photos together? Our multi-photo frames are the perfect solution. These frames are specially designed to hold and showcase multiple pictures in one frame, creating a stunning collage or arrangement of your favourite memories.
Our collection of multi-photo frames comes in various sizes, materials, and designs to suit your unique style and decor. Whether you prefer a classic wooden frame, a sleek metal design, or a modern frame, we have options that will complement any interior.
With our multi-photo frames, you can easily create a personalised gallery on your wall. They are available in different configurations, including 3-aperture, 4-aperture, and even larger options like 20-aperture frames right up to 25 apertures, giving you ample space to display multiple pictures in one frame.
 
Our multi-aperture photo frames are designed to fit a wide range of standard photo sizes including - 6" x 4", 7" x 5", 8" x 6", 8" x 10", 8" x 12", A5 and A4.
Ideal for family photos, new baby, wedding photos, special occasions, and themed collages, our multi-photo frames offer versatility and creativity. They make wonderful gifts for loved ones, allowing them to proudly display their cherished moments in a beautiful and organised way.
Explore our collection of multi-photo frames today and discover the endless possibilities of showcasing your favourite moments with our exceptional selection of multi-photo frames.
 Each photo size quoted has an aperture size cut slightly smaller than the photo size to allow an overlap on the photo to stop the photo falling through the aperture. Your chosen photo size will sit neatly behind the aperture of the mount.
To secure your photos to the mount you will just need to place a strip of tape across the top of each photo and stick it to the mount. Do not stick the tape on all sides as the photos need to breathe in the frame. The best tape to use is picture framing tape which can be purchased from our website on the accessories option before adding your frame to the shopping cart, or you can purchase from most DIY stores.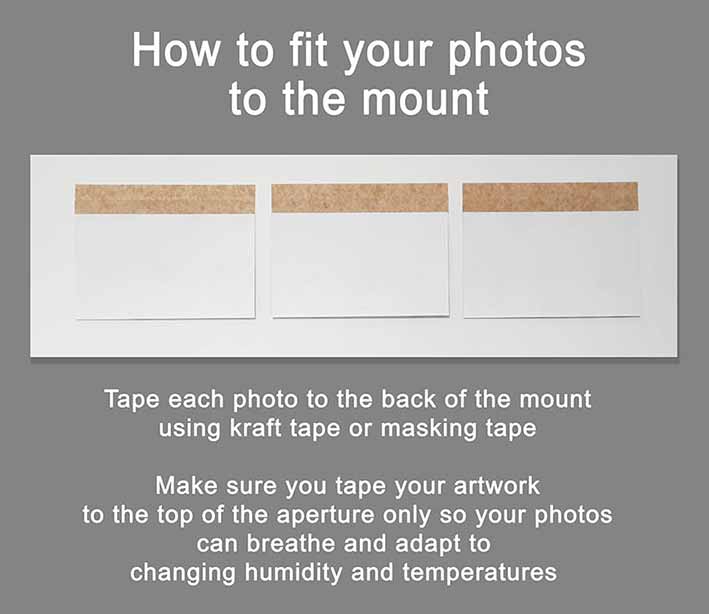 Please be aware that each layout, mount, and frame combination you select is made to order to your specifications, therefore, we cannot offer a refund on any correctly supplied items. This complies with the UK's distance selling regulations for goods made to order. However, if we have not started your order when you contact us then we will be happy to offer a refund. If your order has already been made to your specifications and is ready to dispatch, then we cannot offer a refund for the reasons given above.
Why buy from us?
•    High-quality picture frames hand-made in the UK to your specification
•    Trust – We've been making frames since 1986
•    A massive choice of picture frames and mount combinations
•    Delivered within 3-5 working days
•    All frames come with cord and fixings for the back of the frame
•    Choice of glazing options
•    All mounts are acid-free conservation mount boards
•    All our multi-photo frames can be hung either way
•    Layouts designed for standard size photos up to A3 size
•    Easy to fit your own photos
•    Affordable prices
 
..........What's your story?