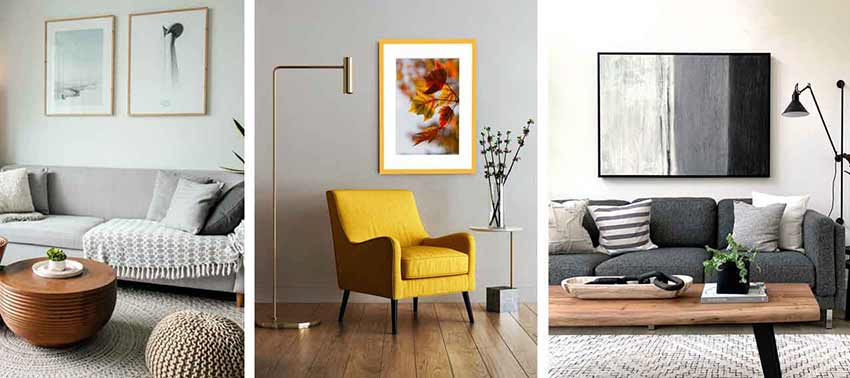 Where do you start when it comes to choosing the right picture frame and mount to frame your
favourite photo, print or artwork?
There are a lot of choices when it comes to picture framing because there are hundreds of frame choices,
colour options, and then display options to factor in too.
 Whether you are framing a family portrait, a contemporary print, or a Limited-Edition print, it is important to choose a
picture frame and mount that will complement your artwork but not detract from the image.
We offer a large selection of picture frame mouldings and picture mounts which have been carefully selected to complement any room or office setting. From simple black or white picture frames right through to ornate frames you will be spoilt for choice. If you are looking for a modern, contemporary, traditional, or aluminium frame, a square, rectangle, or panoramic picture frame you will not be disappointed.  Each made to measure picture frame is supplied with your choice of glazing and comes with fixings for the back of the frame and cord for hanging purposes.
To help you choose the right picture frame to complement your artwork
and room setting here are a few things to consider

Think about where you're going to hang it
The first thing to consider is which room you would like to display your framed artwork.
What size frame will fit in the space you have?
Hanging photos for maximum attraction and appeal is best done with an at eye level height.
But, consider what's around the frame too. If you're hanging it over a sofa, too small or too tall it may not look right. Some sizing options are best displayed in the most prominent wall in your home, like over the mantel, or the centrepiece in a featured display.
Hang it right and it will be just perfect for any room
Have your intended hanging space in mind when you're considering the sizing options.
If you find you have a wider space to fill than one frame would give, turn the space into an area for a featured display of more than one photo. Same sizing with equal spacing between them is all that is required for an attractive centre piece.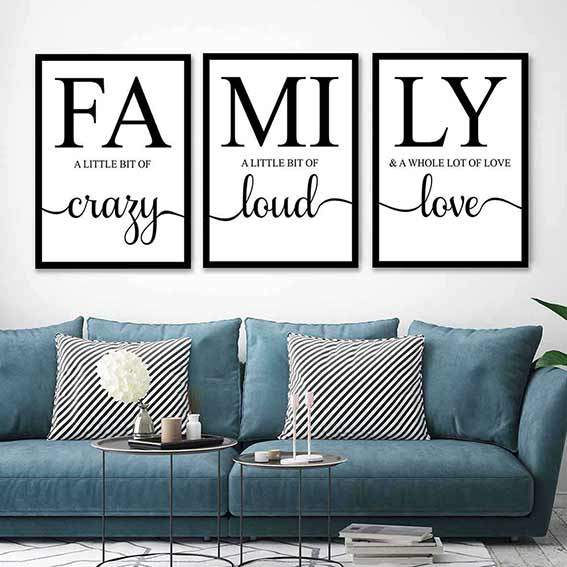 What colour wall is it going on?
Framed pictures always look best on a neutral colour wall rather than on patterned wallpaper.
Neutral walls are the best way to give your artwork the attention it deserves.
Think about your own personal taste
Do you like everything matching perfectly?
Do you prefer neutral shades or brighter colours?
Do you like modern or something more traditional?
What colour furniture do you already have in your room?
By adding the same colour frame as your furniture will ensure that anything you are adding to your room will work with what you have. There is nothing worse than spending ages arranging your perfect décor only to find when you introduce something new such as a framed piece of art, it ruins the entire the look of the room.
Put simply, if your furniture is white or black, you've a broader selection. If it's pine or oak, it's a narrower choice because dark woods will be out as they would clash hard. If your walls and furniture are quite neutral, you could pick out an 'accent' colour from your image and choose a colourful frame to match your image and soft furnishings, such as cushions and curtains. If your room is more traditional or has a rustic theme, then you might want to choose frames to match your furnishings.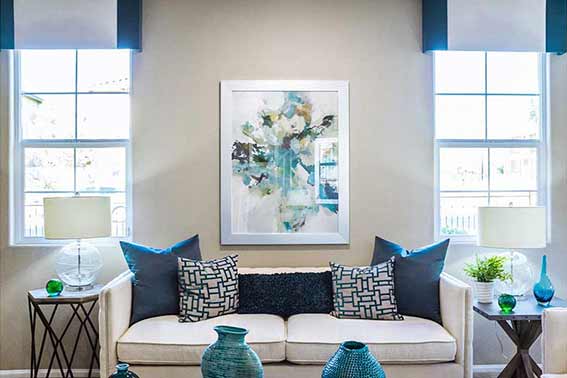 Would your artwork/print/photo look better with a picture mount?
The primary point of using a mount is to protect your photos and any artwork you put inside a frame. They create a boundary preventing the picture touching the glazing, thus preventing any damage to the photo, such as smudging and discolouration.
In terms of appearance, the option you choose for your photo mount will have a profound effect on your finished framed piece. Of anything, be it a photo, painting, or pencil sketch it is down to personal preference and not all images look right with a mount, especially if they already have a border like the images shown in aluminum frames below.
 

What colour mount would work best?
Picture mounts are available in an extensive range of colours. You could be tempted to go with the primary or dominant colour in your art or photograph to give the frame a custom look. That's not always best though.
Generally, most professionally framed photographs have an off-white photo mount or at least a light colour. The reason for this is the lighter the mount colour, the more open the framed piece looks. It's gentler on the eye.
When you go dark on the picture mount, it becomes the dominant force on the artwork; therefore, the eye is drawn more to the mount surrounding the art or photo than it is to what's in the picture. It kind of defeats the purpose of trying to beautify the frame.
Dominant colours fair better as a 2nd mount
A double photo mount can be used when you really want to use colour in the mount, but don't want to overpower it. You will see this with professionally framed wedding photographs when the bride and groom have a colour theme going on. It could be that the groom has a black suit with a red napkin in the pocket, with the bride having a white wedding dress with red accessories, such as a red bow, or perhaps it's the flower girls in specifically themed dresses.
For these types of pictures when you want to bring the theme through, a double picture mount is the perfect way to do that. To get the effect, you can use the traditional off-white shade as the primary photo mount, with the focal colour theme used as a second mount, which will only add a border around the main photo mount, without overpowering it.
The same can be done with any piece you feel like framing with a dark photo mount. Use the darker colour as a secondary mount.
As a guide to remember colour choices on mounts, lighter shaded mounts open up the photograph making it more eye-pleasing. Darker mounts tend to overpower the artwork unless they are only used as a secondary mount.
Who do we supply?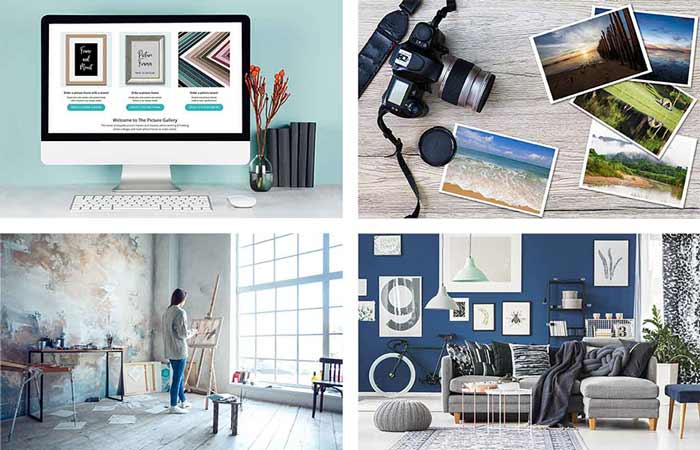 We supply individuals, artists, photographers, hotels, government departments, corporate companies, interior designers, local hospitals, football clubs,or indeed anyone who needs a high quality custom made picture frame and mount at a fair price. However great or small your order is, we still offer the same quality of service and attention to detail, so you can rest assured if you place an order with us we will go that extra mile to make sure you are completely satisfied with your order.