The Picture Gallery is located in Bedford, Bedfordshire. We are a family run business and have been established since 1986. Being one of the longest established picture framing businesses in the industry you can rest assured we have the experience and expertise to handle all types of printing and framing jobs no matter how great, or small.
Keeping it in the family our website has been built from the ground up by the owner Joy and her brother Jeff. Joy has designed the website and Jeff has written all the software for the framing functions with the end user in mind for easy online ordering. We have both worked extremely hard to make our website easy and as user-friendly as possible to take the stress away from ordering picture frames and framed pictures online. We have great unique features too such as photo enhancement options, cropping options, you can even add a text box to your framed pictures to give your picture a title. We may be a little biased, but we believe our website is the most user-friendly picture framing site you will find online. We are sure you will love the unique features we offer but don't just take our word for it, have a look for yourself, it's just so easy!
From our factory and retail shop in Bedford we offer a complete picture framing and mount cutting service. We also offer a large format printing service on paper and canvas at our factory location. From our website we offer a custom made picture frame and  picture mount cutting service, multi-photo frames and an online visualization photo printing and framing service. You can upload your photo to create your own work of art by choosing from our selection of mounts and frames to compliment your photo. You can even upload multi-photos to have them printed and framed and create a beautiful collages of your favourite photos......it's so easy thanks to our state-of-the-art picture framing website.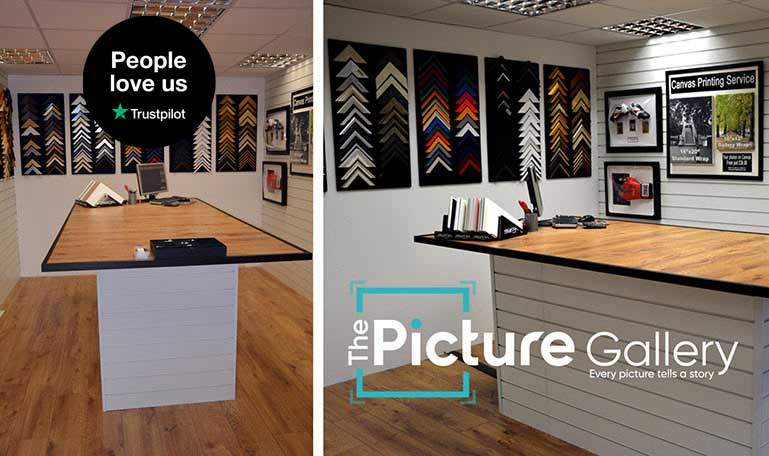 Most of our business is by word of mouth, and because we take pride in everything we do and offer a friendly service, our customers just keep coming back, or recommending us to their friends and family. We have customers from as far as Australia, New Zealand, America, and Spain to name but a few, all who find us via the internet and place an order to be delivered to their friends and family in the UK. Sometimes we even have to pop a message in with the parcel too!
We supply individuals, artists, photographers, hotels, government departments, corporate companies, interior designers, local hospitals and football clubs, or indeed anyone who needs a good framing job at a fair price.
We don't claim to be the biggest online picture framing company, and we don't claim to be the cheapest, but we could claim to be the best as we take so much pride in everything we do. However great or small your order is we still offer the same quality of service and attention to detail, so you can rest assured if you place an order with us, we will go that extra mile to make sure you are completely satisfied with your order.
We hope you enjoy visiting our site as much as we have enjoyed creating it......especially for you.